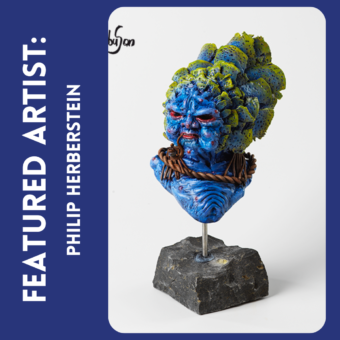 Artists from around the world LOVE Apoxie Sculpt! "Hello – I´m an artist in Vienna, Austria and I love to use your Apoxie Sculpt for my sculptures!"
About the Artist:
I really love the changing characteristics of Apoxie Sculpt over the curing process and beyond. It's almost alive until it hardens and then changes to a sturdy base for further editing or buildup. As I was doing more and more work with it, I literally started planning my sessions around these different working phases. While the material is soft and moveable I am working on the big picture and in later stages I lay my focus on smaller details like surface structures, dents and wrinkles.
Also the possibilities to add the material to surfaces of other kinds makes it very versatile for me. So when it comes to mixed media projects, Apoxie Sculpt is a medium I will use in any case somehow within the process.
Especially when I need smaller, hard elements that should realistically interact with soft surfaces like teeth sitting in gum its my go to choice, when it comes to preparing in advance…. in a nutshell: love it!
~Philip Herberstein
See more of Philip's work at: www.habu-san.com