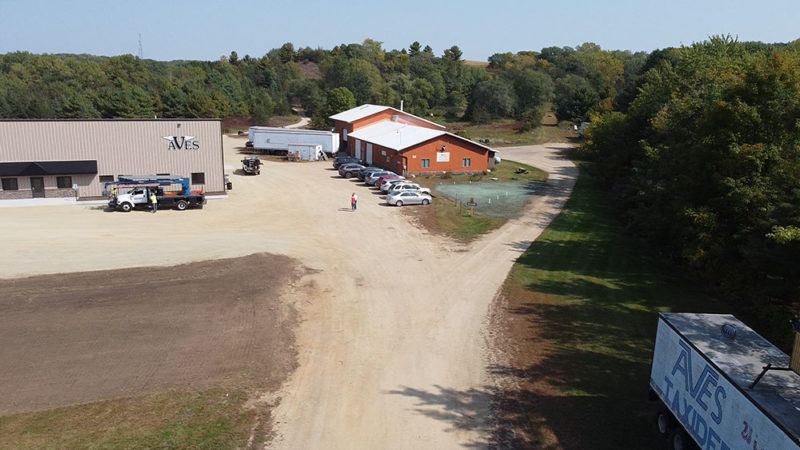 You may have noticed something BIG has been going on for months now on the old Taxidermy & Cheese landmark business property on HWY 35 South between Hudson and River Falls WI. 
It's true – the local people have known this business as THE Aves Taxidermy and Cheese for the past 40 years, offering Top Quality Taxidermy Services, World Champion Cheddar, Christmas Trees, Maple Syrup and Honey. But how would a place like this be expanding to a size we are seeing now? – Well, the cheddars out of the bag… That huge Aves wing logo is known worldwide as a leader in the Self-hardening clay market… and it's been here the entire time…in the same building in fact. 
Taxidermy & Cheese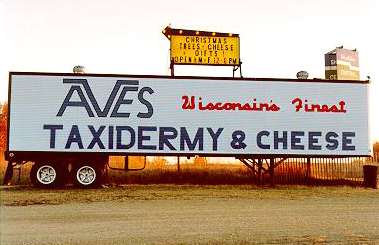 It's time to transition but before we do – let's talk about how this crazy combo business of Taxidermy & Cheese started, who's behind it and how it ties in together with …Clay?! 
It started with a boy on a dairy farm that had a passion for wildlife animals. David Brummel at the small age of 11 would work in his father's dirt floored basement preserving wildlife specimens, wrapping mannequins and modeling them back into the glory and perfections they once were. You see most people look at taxidermy as a show off sport related to trophy animals, Dave saw it as an art form. A way of putting an animal into its most glorious form as an honor for people to enjoy. He got pretty good at it, and through many years of trial, error and self-education discovered the clay that he and "taxidermist artists" were using shrunk
and cracked and made these preserved pieces look bad, the eyes would be crooked after the clay dried, the face would shrink up weird. After years of this frustration, Dave continued tinkering with making his own clay, found himself in chemistry classes and worked his way through college to be a veterinarian and discovered what most people do when they go to college –something totally different. Dave went on to taxidermy school, competing, and teaching in the wildlife art industry with his own line of self-hardening clays that he developed specifically for that industry.……he fell in love, got married to his wife Sandy of 40+ years now – they had 4 daughters together that they put through private school while starting the business on a seriously low budget. Working together the couple logoed and registered the name Aves®, (which is Latin for bird; birds were Dave's wildlife art specialty) … and created Aves Taxidermy and added Cheese.
– Ahhh the Cheese. Sandys father was a world champion cheese maker that lived just a few hours away – the couple sold the famous "Clover Leaf" cheese along with Maple syrup to bring people into the taxidermy business. On his property Dave made a tree farm and planted thousands of trees with his daughters to grow, shape and sell them as Christmas trees to help pay for their schooling. The clay for a long time stayed in the taxidermy industry, before it branched out to the professional teams at the Smithsonian, Gettysburg and Chicago field museums for wildlife and artifact repairs, it worked its way into the hands of Hollywood special FX artists & theatres for prop building, prototype makers, pave jewelry designers, repair persons, it caught on to the zoos, aquariums and theme parks for outdoor displays with Aves Clay being used as the original sculpted piece that cast to one of the largest recognized national projects; "The Charles Shultz Tribute" with all those cool Charlie brown, Lucy, Linus and snoopy statues you see all over using Aves Clay to make many of the customized exterior features you see on the figures today…the list of uses keeps growing along with the business and the focus has really taken shape over the years from taxidermy, to clay and it doesn't stop there….
A truly family built and run business
– Sandys Dad retired and so the famous cheese came off the sign. Dave was making clay full time and the taxidermy dwindled back from lack of time. One of his daughters, Erin started working with him taking the marketing end of things, with her fiancé who jumped in taking care of the machinery needs, while wife Sandy kept up with the book keeping. Dave started keeping honey bees and selling his honey with that now son in law Matt. The two of them tackle the bees and the clay making together. It's truly a family built and run business with a group of wonderful employees that help make it possible to do all of this of this together.
Aves is building for the future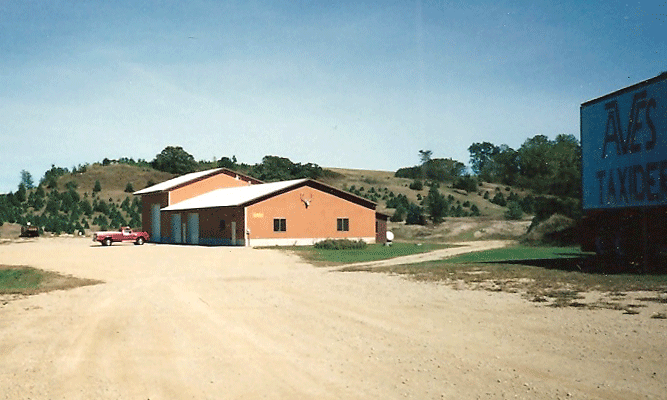 Aves, Manufactures of Fine Clays & Mache's officially has its own building with a shipping/distribution center for the hundreds of vendors they service worldwide, a retail store front, and a classroom for aspiring artists to come have some creative fun. 
The Historic "Taxidermy and Cheese" semi-sign will be converted to "Aves Wildlife Museum" to uphold this landmark, keeping the fame and continuing to share the vision of beauty in animals that Dave and his family have built their life around. "We plan to open the museum summer of 2021 in the original building a few days a month as a free spectacle for wildlife art education. It's a fantastic opportunity to get really up close to animals taking in all the glorious details they each hold and are preserved to be and learn more about them". Taxidermy services will still be available and you may even see an occasional cheese truck in the driveway. 
The Clay Store is open now Monday – Friday 9am – 5PM. We look forward to greeting you.
"If you need to make, fix or alter it – we have the solution for you!"