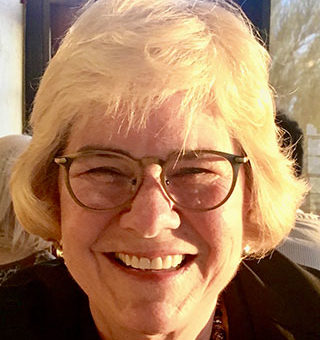 Carol Signore began gaining critical recognition for her artistry with gourds at Arizona Gourd Society's annual juried competitions .  In 2015 she earned top honors in her state's Advanced level and was graduated to the Master Gourder Category.    Collectors love her whimsical gourd figures and unique animal masks.  Her work blends the color and vibrancy of the southwest in unique ways with the haunting majesty and folklore of Africa.  In addition to the annual Arizona show Signore's work has been featured at Tucson's DeGrazia Museum and Little Gallery and is a regular presence at Tubac Teritories in Tubac, AZ.
"I'm retired and I love having time to create – to me it's the best part of not working although I may work harder now at times than ever before. I don't paint watercolors as I once did. Instead I paint with inks and dyes,
and I drill, wood-burn, saw, sand, sew, and order strange things online like Emu feathers and skunk skins. My paint brushes and I have been hijacked happily by an ancient fruit, the gourd. Some Botanists believe gourds were earth's first domesticated plants. But to me each gourd is a 3 dimensional canvas. I'm excited every time another one finds a fun new life on my workbench."
Aves Apoxie Sculpt is the chief adhesive I use and the primary material I use for creating detail and shaping character.
My work can be seen and purchased through my website gourdartsouthwest or by appointment in my home Gallery.