I am a number one fan of your products, and have been using them for years in my mixed media artwork.
All of the mosaics use Apoxie Sculpt as the main adhesive! Apoxie Sculpt is my go-to adhesive for mosaics because it allows me to work clean,  versus cleaning up after applying thinset. I don't have to wait for the adhesive to cure before working in close proximity to a section I just mosaiced. It will stay put with Apoxie. I can therefore finish a piece so much faster! I can choose to grout or not grout an area with delicate materials, like shells or jewelry pieces, because I apply them last, after grouting. It will adhere to nearly anything, and so I have the ability to use unusual bases.
Karen Kingsbury Bio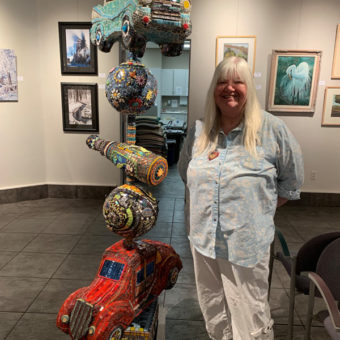 Karen has always loved to make and experiment with garden art. A native Californian, she has lived abroad for 10 years in two very different settings: Nicaragua in Central American and the Marshall Islands in Micronesia, teaching English to children and adults, while learning new cultures and languages. Her  creative interest took a back seat to being a full-time single mom,  and while her two boys grew up back in the States, she earned two degrees in English as a Second/Foreign Language. At San Francisco State she became the Director of New Student Programs and for 25 years helped students and families prepare for degrees, and designed and implemented a successful peer counseling program. While working as an educator, experimenting in the garden was always her happy place. Mixing mediums and working with cement, wood, clay, jewelry, and painting lead her naturally to mosaics. At the point she retired from the university, she was finally able to launch a business and make art full time. She turned her home into a creative space and wakes each day to make more art! She approaches  her art from a whimsical lens. It makes her happiest to people react to her pieces with joy and laughter. Currently she teaches her style of mosaics in Modesto, California continuing to find ways to mix it up in mosaics.