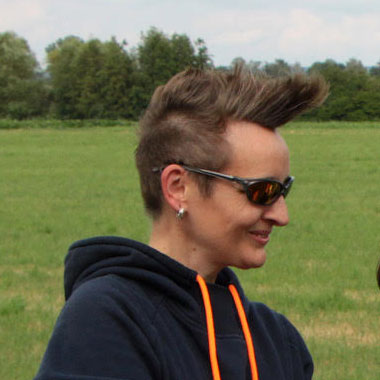 Hello, my name is Jennie, I was born in the middle of the 1970's in a medium sized city in the middle of Germany – so far so good… 
As soon I was able to grab a pen, I started to draw! Anything, anywhere and all the time. First I just ruined several of my fathers expensive architect pencils and -plans.  Later, I won several painting competitions along with a bunch of useless prizes and medals.  In school my artwork seemed to be incredibly good – too good to be true: three of my teachers actually didn't believe that I made those drawings myself and gave me bad grades.
After getting my high-school diploma I promptly started studies at university. Of course something creative – to avoid working an uncreative nine-to-five. A logical choice for me was graphic-design-studies at the university in my hometown.  Since I received my diploma in 2004, I have been self-employed and work as an artist, designer, photographer, illustrator, airbrusher, painter, cartoonist, etc.  I freelance for private persons, associations, institutions and several big companies and industries.  Still no boring nine-to-five; still creative – more than ever before!  I did not learn a lot of my skills during my studies – I acquired them through autodidactic education, experiments, curiosity, exercise and the will to live up to my own ambition.
Granted: I'm addicted to art!  To me, a day without any kind of creativity is a lost day.  I do arts from A to Z (airbrush, aquarelle, mural paintings, photography, trompe l´oeil, sculptures, fur puppets, illustrations and all kinds of creative commissioned jobs).   I use many different kinds of material, techniques, tools and styles – and I love to mix them, to create something new; something stunning and interesting.   I don't do art to please others; I do art to please and entertain myself. If other people like my artworks too, of course I do feel pleased and honored!
I love nature and I hate our fast-moving-plastic-waste-disposable-society!  I'm a manual-dinosaur: I love to work `analog´ with my hands. Our modern, digital, automatic world bugs me.  My philosophy is: don't waste, conserve and save resources! Reuse and recycle to produce as little garbage and junk as possible!  That fits perfectly with my Steampunk-bricolages and other art-projects and my `trash to treasure` approach: I transfer broken, modern trash into fascinating old-fashioned but modern noble-junk with function!
The NaudiLUS-project is my biggest and best example: repair junk, pimp trash and give it a second life.  Next stop for the 20 year old old crappy, broken, ugly Audi would have been the scrap press…  Luckily it came across me – and luckily I came across Aves Apoxie. And the idea was born: transform the car with 3D-Steampunk-Airbrush! The idea grew and grew and the NaudiLUS was born (the name is a homage to Jule Vernes famous submarine "Nautilus" combined with the car-make Audi.  It´s not a showcar – it´s my every day car!! I´ve done plenty of "ennoble-trash-projects". Aves Apoxie ist the perfect material to build stunningly, marvelous fancy-phantasy-stuff!
If you like to see more of my work:
www.dieGraephin.de
Facebook: https://www.facebook.com/graphikgraephin